Amazon Echo Dot is a great device that provides all the features of Amazon Echo at a significantly lower price.
Pros
"Always listening" – say "Alexa" in the room with the device and give commands, no buttons

Superior Speech Recognition

Smart Home Voice Control

Great minimal design

Handy AUX output
Cons 
Alexa works only in English and German.

Weak built-in speaker
What is an Amazon Echo Dot
Amazon Echo Dot and Amazon Echo are the two most innovative devices for your home to date. And these are not just big words. These are voice assistants working in an "always listening" mode. Amazon has proven that in all ways.
Amazon's smart voice speakers have Alexa's built-in voice assistant.
In just a few years, Alexa has grown from an interesting experiment into a potent and versatile voice assistant that can help you in many ways: tell the weather, turn on music, manage dozens of smart home devices, and even call other people on their Echo devices or application in a smartphone.
Amazon Echo Dot is a full version of Amazon Echo with the only difference: a weak built-in speaker. This problem can very easily be fixed by connecting an external Bluetooth speaker. Eventually, the device itself only benefits from this due to the physical compactness and significantly lower price (almost three times cheaper than the "full-fledged" Amazon Echo). Most of the millions of devices sold with Alexa are Echo Dot.
Therefore, Echo Dot is an excellent way to get Alexa in your home.
Echo Dot 

Design
Echo Dot looks nice and minimalistic: the round surface is similar to that of Echo, but without a volume control ring. Therefore, there are four buttons at the top:
1- an activation button,
2- a microphone mute button and
3- Volume control +,
4- Volume control -,
Echo Dot also has a light ring indicator, which shows when the device is waiting for a user command and activates its 7 microphones.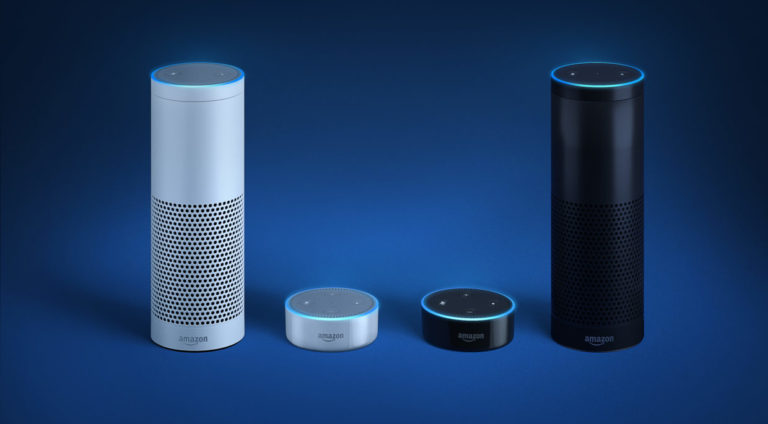 The difference between Echo and Echo Dot, which immediately catches your eye, is the height of the devices. The height of the Echo Dot is about 3 cm/1.18 inches, which is 20 cm / 7.8 inches less than the "big brother". This is really a significant difference.
This size allows you to place the Echo Dot wherever you want – in any nook, the only requirement is that the device can hear you.
Echo Dot works great with the kitchen devices, such as the microwave. The device works well next to other speakers and sound sources due to the very high-quality clipping of background noise when recognizing the user's voice.
Echo Dot has two outputs: micro-USB and AUX. The first one provides power connection, and with the second one, you can connect external speakers (alternative to Bluetooth connection).
Echo Dot 

Functionality and setup
The entire initial setup is to plug the device into a power outlet, select the appeared network with a name in the AMAZON-XXX format on the computer in the list of Wi-Fi connections, connect to it and enter the login and password from your home Wi-Fi network in your Alexa account.
The second step to take is to indicate which speaker to use: built-in or external via Bluetooth / AUX. This can be easily changed in the future.
For example, you connected an external speaker via AUX. To disconnect unplug the AUX cable. If you want to disconnect the Bluetooth speaker, you can use the voice command "disconnect".
A distinctive feature of Amazon Echo Dot compared to other similar devices and voice assistants is its excellent speech recognition. This is impossible not to notice. Echo Dot successfully recognizes English even with a strong accent or problematic diction.
Everything is simple with Bluetooth speakers, too: the voice command "connect" automatically connects the Echo Dot to the nearest Bluetooth device.
It is quite impressive how Alexa recognizes speech well even when the music is turned on from a nearby speaker. The recognition range, of course, is limited, but with regular listening to music, you do not even need to turn down the volume to give the device a command.
Moving away from music, Echo Dot has the same functionality as Echo: you can set a timer while cooking, listen to news bulletins during breakfast, set an alarm that turns off by voice (which really requires waking up, unlike the automatic pressing of a button), enable relaxing melodies before bedtime. A complete list of commands is described in a separate article.
Smart House with Alex and Echo Dot
Just like the big echo, Echo Dot supports voice control of smart home devices: sockets, bulbs, air conditioners, etc., thousands of different devices labeled "Works with Alexa" (works with Alexa). Of course, in the compact version of the column, there is no Zigbee chip, unlike Amazon Echo Plus, but it is not needed in this version of the column – this would significantly increase its cost.
Echo Dot is ideally used as an additional means of managing your smart home based on Amazon Echo Plus or a hub with a Zigbee frequency. For example, the hub and the smart bulbs connected to it are in the living room, and you place the Echo Dot in the kitchen – and now you can ask Alexa from both rooms if the light is in the hall and control it. Or the second option: Echo Dot does an excellent job of the controller for a smart home if you have few devices and all of them support Wi-Fi control, for example, air conditioning and air cleaner.
Apps for Alexa
Third-party developers have created more than 15,000 Alexa Skills (skills applications available for installation on Echo through the Amazon Appstore), and this number is growing every day. Good examples are the translator skill or memory training. The number of built-in voice assistant capabilities is also increasing.
Echo devices are still in search of their niche, and developers are actively experimenting with the capabilities of Alexa.
What will you like?
Echo Dot is a very compact device with great functionality. It has the same excellent speech recognition as Echo.
Connecting a good external speaker can completely change the situation with a weak built-in sound. Turning on music and radio with your voice is surprisingly fast and convenient – so much that you will turn on the music without the slightest effort and whenever you want.
Due to the small size of the Echo Dot, you can place it in any convenient place, and from time to time, you will definitely use it, asking for time and weather, setting timers and alarms, etc.
What will you not like? 
Currently, Alexa supports only a few languages, including English and German. But it is worth noting that the main Alexa commands are straightforward, Echo Dot correctly recognizes different accents, and all owners of Echo note that this device is a great way to practice conversational English, children are especially willing to do it!
A relatively large number of skill applications (Skills) are already available for Alexa. But the potential of this voice assistant has not yet been revealed to the end, and there are commonplace things outside Amazon's sphere of influence. The resulting feeling is somewhat like waiting for the release of good games after buying a new console.
Summary
 Amazon Echo Dot is a great compact device that combines most of Amazon Echo's strengths with a significantly lower price.
Due to the ability to connect external speakers, Echo Dot is great for listening to music at home, but even without them, the device copes well with everyday requests.
We still do not live in the times described in science fiction films with on-board computers – spacecraft assistant pilots, but if Amazon and the developers of Alexa Skills do not lose their enthusiasm, such a future will be very close.
If you are interested in trying Alexa voice assistant and smart home, then Echo Dot is a great option because of the quite affordable price.