DJI has unveiled the new DJI Air 2S, which differs in many ways from its predecessor. The Mavic Air 2, but has significant improvements.
Shooting Pro
The DJI Air 2S is the first compact drone from DJI capable of capturing 5.4K / 30 FPS and 4K / 60 FPS videos. The drone's camera is on a 1-inch CMOS sensor with an effective resolution of 20 megapixels, which is a serious step towards improving the quality of shooting and puts the DJI Air 2S on a par with the more expensive model DJI Mavic 2 Pro. A large sensor also dictates increased light sensitivity. That will allow the drone to capture high-quality images when shooting in all lighting conditions.
With support for HDR and 10-bit Dlog-M profile, users will receive video output with a wide color gamut and deep tones. For professional editing of footage, you can record videos in MOV format and photographs in RAW format. These profiles store more information and greatly expand your editing and color grading capabilities.
Masterpieces at the touch of a button
The drone has an interesting MasterShots feature. The pilot only needs to select a target, after which the drone will start firing. In this mode, the aircraft will perform ten maneuvers in succession and then create a short cinematic video.
FocusTrack offers three auto tracking modes for different use cases: ActiveTrack 4.0, Spotlight 2.0, Point of Interest 3.0. In Spotlight 2.0, the camera stays locked onto an object while the drone spins. ActiveTrack 4.0 allows you to track your subject smoothly without worrying about potential obstacles.
Even if the subject is momentarily lost, resumed tracking quickly, and with Point of Interest 3.0, creating perfect cutscenes is made more accessible by flying around objects in circles. The pilot only needs to activate them; the DJI Air 2S will do the rest. You can lock the camera on an object in tracking mode, making the plane fly around it in a spiral.
It is also possible to fly in the tracking mode of a moving object. And fly around the thing in a circle, and not a single detail is left out of the frame. FocusTrack is a handy companion for the novice pilot who takes care of creating impressive scenes.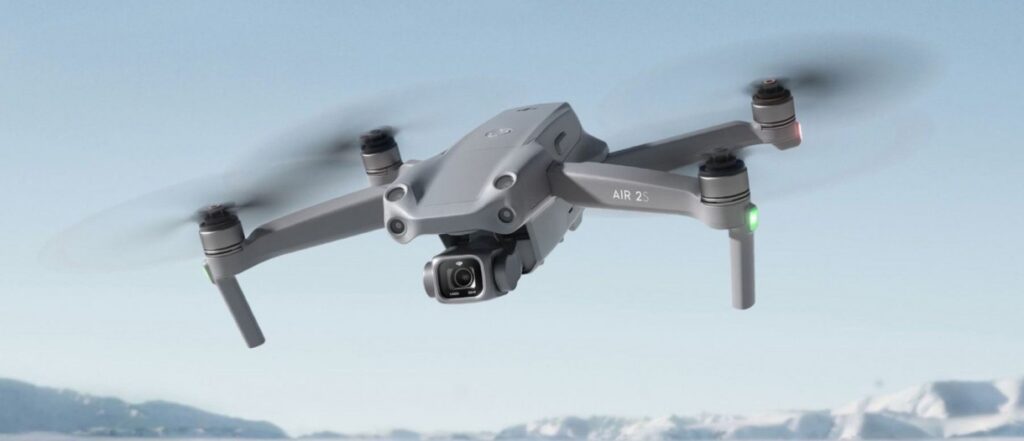 Even more convenient and safer
DJI Air 2S is unpretentious in management. In addition to the sensors at the bottom, front, and back on the body, two video sensors appeared, directed upwards. Now the drone will not get stuck in tree crowns and easily avoid collisions with billboards.
Besides, the drone provides an additional layer of airspace safety with its advanced AirSense system, capable of receiving ADS-B (Automatic Dependent Surveillance) signals from nearby human-crewed aircraft helicopters. That will prevent accidents with other planes, and their location is transmitted to the remote control screen for convenient control of the air situation by the drone pilot.
But OcuSyns 3.0 technology is responsible for the timely transfer of the image to the remote control screen, which allows you to receive a picture in real-time at a distance of up to 12 km. The 5.5-inch display with 1080p resolution equipped the remote, enabling real-time monitoring of the situation from the drone and simplifying aircraft control. The remote controller is compatible with DJI GO 4 and DJI Fly apps and supports third-party apps.
Advanced equipment
DJI Air 2S is available in the basic configuration and extended Fly More package. The latter includes a battery charging dock, shoulder bag, ND filter kit, three batteries, and other accessories. With this set, the pilot is ready for any circumstance, and nothing prevents him from shooting bright, clear, and immersive videos.