Many home theater enthusiasts still prefer movies and TV shows to DVD, Blu-ray or 4K Ultra HD Blu-ray. Most users have switched to digital movie libraries and streaming services such as Prime Video, Netflix, or iTunes. Some users own extensive personal film collections. And it is for this target group that an interesting product is intended, which we will consider today – the Zidoo Z1000 media player.
You might like using TV sticks instead.
Distinctive characteristics of a media player are:
RAM – 2 Gb , internal – 16 Gb ;
operating systems – Android 7.1 and OS OpenWRT ;
port connection to the Internet – Ethernet with built-in 10/100/ 1000 ;
processor – Realtek RTD1296 ARM Quad-core A53;
4K resolution support with HDR 10 Bit processing;
GPU – ARM Mali-T820MP3 ;
Support for 3D formats and Blue-Ray.
Unpacking and packaging
Already when unpacking the Zidoo Z1000, we note the high quality of workmanship. This is reminiscent of the Oppo UDP-203 or Panasonic UB9000 4K Blu-ray players. Stylish and visually appealing aluminum body radiates quality factor. Gaps or wobbly components – no sign. The HDMI, coaxial and RCA connectors on the back of the device are also gold-plated.
The case has an LCD front that shows the most essential features such as resolution, HDR and playback time. The front panel also has two USB ports. Two more USB ports are located on the side of the 4K player (2x 2.0 / 2x 3.0).

The package also includes an infrared remote control with backlight buttons. The remote control comfortably lies in your hand and contains programmable buttons for activating shortcuts. Besides, there is an Airmouse function that makes the management process even more convenient. A slight drawback here is the glossy surface, which is subject to fingerprints. Also, the Zidoo Z1000 comes with a 12 V power supply, a user manual and an HDMI cable.
Operating system and applications
Zidoo equips its media players, including the Z1000, with a setup wizard that guides you through the basic settings. This is very convenient for the user, so no prior knowledge is required to configure the device.
At the time of testing, the operating system was Android 7.1.1 with a user interface and OpenWrt as the second system. Both systems work in parallel to each other. The following shortcuts are located on the desktop: file manager, MusicPlayer, PosterWall, application menu and system settings
A user interface called Posterwall offers some customization options. You can customize the background, or cover size. Information can be taken from Tvdb or Tmdb or you can also add your own NFO files. Even a mixture of both options works surprisingly well.
Zidoo Z1000 is based on Android 7.1.1 OS. and does not have root rights out of the box. Due to this limitation, it is not possible to create a user account. However, applications can be installed via APK files. If you are ready to refuse the warranty, then the device can be rutted to get a full range of functions. Pre-installed applications include Google Chrome, Clear Manager, HDMI In, and the updater. For people who do not want to use the internal interface, a special version of Kodi (ZDMC) is also available. As the main one, the built-in Zidoo video player is used.
If you think that the Zidoo Z1000 is the perfect media player, then you need to consider some points. Lack of DRM licensing makes it impossible to stream high-resolution streaming services for Zidoo. The Youtube app can display images with a maximum resolution of 1080p. HDR-content also plays only in the SDR.
Media player for video and music
It uses a file explorer that understands all common file formats, and they can also be integrated using various methods, such as SMB, NFS, DLNA or wireless communication through Airplay and Miracast.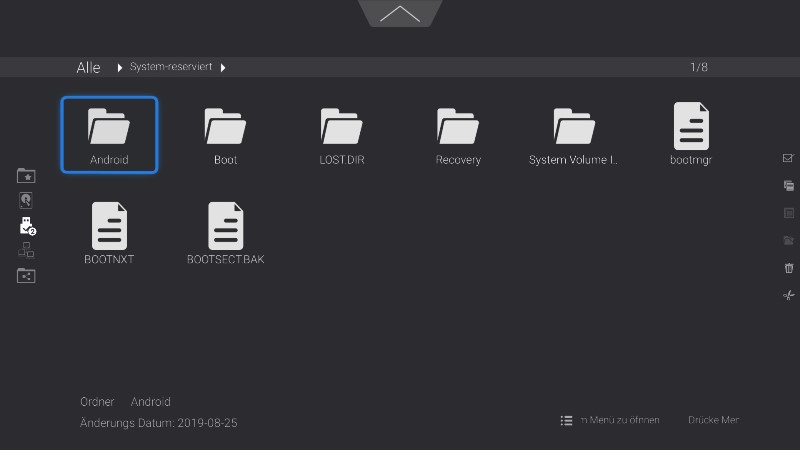 Media Player Zidoo Z1000 uses an internal video player, which has great advantages over competitors. For example, 3D.iso, BD.iso, UHD.iso files are played even when navigating the menu. This works very well; there was no delay or jerking in the test.
Conventional formats such as MKV and 3D MVC also play perfectly with Zidoo. The definition of resolution and color gamut worked flawlessly in the test. For example, 4K UHD BT2020 10Bit YUV 4: 2: 0 with a frequency of 23.976 Hz – it worked without problems. HDR, refresh rate, color spaces, color sampling are determined cleanly and very reliably. As a small drawback, unfortunately, it should be noted that the Z1000 supports only the HDR10 standard. HLG, HDR10 + and Dolby Vision are unfortunately not supported. Perhaps they will be added later with higher versions of Android.
The player offers the ability to adjust contrast, hue, brightness and saturation according to your personal preferences. The subtitle function is also excellent. The subtitles can be adjusted by position – this is especially interesting for people with 21: 9 playback devices.
The Z1000 also has a built-in music player that plays all common formats, such as MP3 or WMA, and up to uncompressed files, such as WAV, FLAC, SACD, etc. Files are clearly recognized and reproduced without dips, noise, or other artifacts. Unfortunately, the current firmware has a problem in that albums and artists are not cleared (even with clean MP3 tags). Most likely, this error will be fixed.
Conclusion
The Zidoo Z1000 media player is great for movie buffs who want an easy-to-use media player while offering a very wide range of playback options. The system is reliable, fast, and visually appealing with a new user interface.
The player is recommended for connoisseurs of high-quality equipment and should be on the wish list of people who are looking for a professional media player. The Z1000 is not quite cheap – it costs around 399 euros, but it offers many more features than most cheaper players.
PROS
Excellent workmanship
Support for multi-channel audio (Dolby Atmos, Auro3D)
4K UHD support including HDR10
Playback ISO Formats
Display menu structure for Blu-ray
HDMI Recording Function
OpenWRT implementation
Intuitive and visually appealing menu
Fast processor
Expandable memory with a hard drive
Backlit remote control
Sufficient number of USB ports
CONS
Some BD menus cannot be played.
No streaming services in UHD
No Dolby Vision HDR, HLG, or HDR10 +
The music player is not completely modified
Specifications
Main functions:
Realtek 1296 Quad-Core 64 A53, 2 GB Memory, 16 GB eMMC
Android 7.1 OS
File Systems: FAT16 / FAT32 / exFAT / NTFS / HFS + / Samba / EXT2 / 3/4
HDR, 10-bit HEVC / H.265 to 4K at 60 fps, VP9 to 4K at 60 fps, H.264 to 4K at 24 fps
HDMI IN 2.0
LAN: 10 / 100M / 1000M Ethernet
Supports BD ISO playback with menu
Supports 2D, 3D movies
Support 802.11 A / B / G / N 2.4 GB / 5.8 GB Dual Band WIFI
Supports Dolby True HD, DTS-HD MA, LPCM, Dolby Digital, Dolby Atmos, Auro 3D
Firmware update: via the Internet or USB port
Equipment:
Processor: RTD1296, ARM A53 X4, ARM T820 MP3 (3-core)
RAM: 2 GB DDR4
Storage: 16GB EMMC
Connections:
Video Output: HDMI 2.0
Wireless: 802.11 a / b / g / n 2.4G / 5.8G AC Dual Band WIFI
LAN: 10 / 100M / 1000M Ethernet
Audio / Video: AV-Out
Optical: Optical Output
Coaxial: digital audio output
SATA connection: 1x external 2.5-inch / 3.5-inch SATA connection
SATA connection: 1x internal 3.5 "SATA connection
HDMI input: HDMI 2.0 input
HDMI output: HDMI 2.0 output
USB Ports: 2 x USB 3.0, 2 x USB 2.0
RS232 port
Power Supply: 12V / 2.5A
Menu Languages:
German / English / Spanish / French / Italian / Dutch / Polish / Russian
Supported Formats:
Video containers: RM / RMVB, MPEG1 / 2/4 Elementary (M1V, M2V, M4V), MPEG1 / 2PS (M2P, MPG), Transport stream MPEG2 (TS, TP, TRP, M2T, M2TS, MTS), VOD, AVI , ASF, WMV, Matroska (MKV), MOV (H.264), MP4, RMP4, IFO, DVD-ISO, BD-ISO, MINI BD, BD-9, BD25, RBD, D5, D9, DVD, CD, FLV, swf (.swf), 3GP / .3gp, AVS / (. Avs), 3D Bluray (DISC / ISO) or single-file (*. Ts / *. M2ts)
Audio: aac, mp4, m4a, mpeg audio (mp1, mp2, mp3, mpa), wav / wma, asf / ogg / ape / flac / amr, 3ga / ra, rm, rmvb, ram,
Image Formats: JPEG, BMP, PNG, GIF, TIFF, Webp (Android),
Subtitles: MicroDVD [.sub], SubRip [.srt], Sub Station Alpha [.ssa], Sami [.smi], VobSub [.idx + .sub], Advance, SubStation Alpha [.ass]