We present an overview of the new Chinese TV set-top box, running on a powerful 4-core Amlogic S905X3 processor running Android 9.0 operating system. H96 Max X3 has 4 GB of RAM and 32 GB of internal memory, but there are also options with 64 and 128 GB of internal memory on sale. The console is notable for its rich multimedia capabilities at a relatively low price.
Main features of the TV box :
CPU: Amlogic S905X3
GPU: Mali-G31 MP2 "Dvalin"
OS: Android 9.0
RAM: 4 GB type DDR4
Storage capacity: 32 GB (there are versions with 64 and 128 GB)
Memory card support: up to 64GB
WIFI: 2.4 + 5 GHz
Bluetooth: Bluetooth 4.0
LAN: up to 1000 Mbps
Miracast Support
Media support:
Decoder: H.263, H.264, H.265, HD MPEG4
Video Format: 1080P, 3D, 4K x 2K, H.264, H.265, MPEG1, MPEG2, MPEG4, RM, VP9
Audio Formats: AAC, APE, DDP, FLAC, HD, MP3, OGG, TrueHD, WMA
Photo Format: BMP, GIF, HD JPEG, PNG, TIFF
Interfaces: HDMI, microSD card slot, LAN, USB 2.0 1 pc, USB3.0 1 pc, SPDIF, AV Out, DC PowerPort.
Read a review on Zidoo Z1000 on OS OpenWRT with Android 7.1.1
Packaging
The TV set-top box was purchased in the official VONTAR brand store on AliExpress, famous for its quality products. This time, the TV set-top box was delivered packed in a standard bubble bag with protective plastic corners. I am glad that the supplier cares about users even in such trifles as packaging.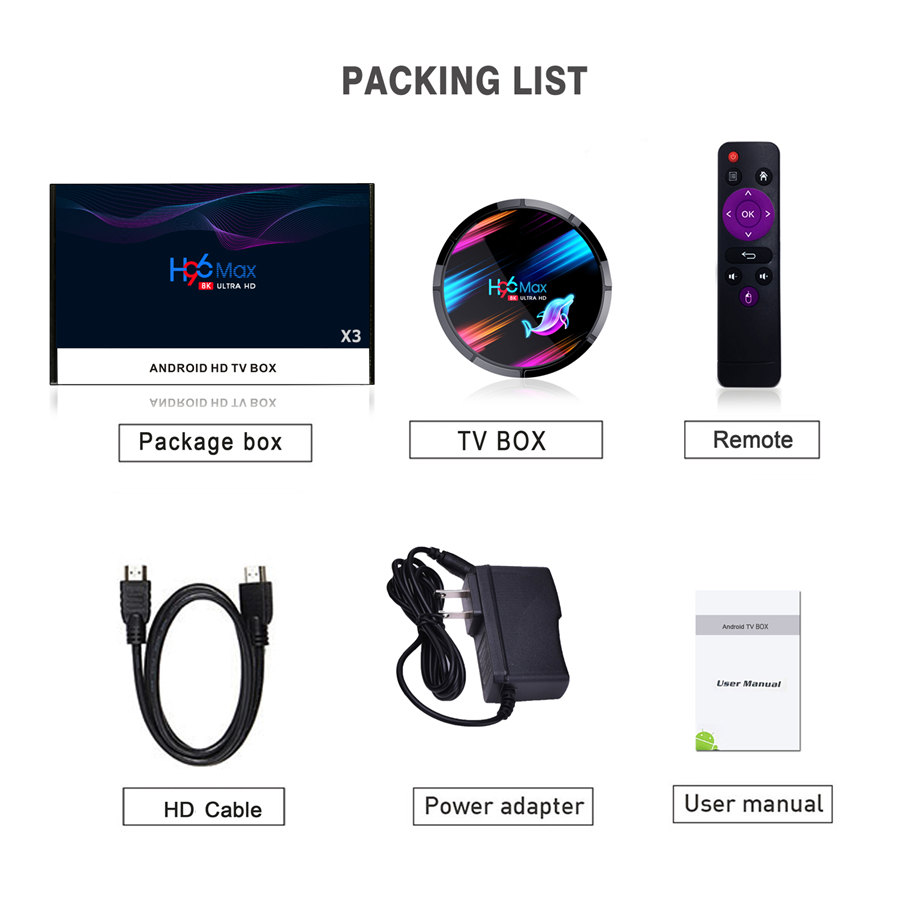 Equipment
This media player comes with a standard set of accessories:
Remote control
5V power supply
HDMI cable
User's Manual
The remote control is small, and light contains a minimum number of buttons and, accordingly, supports only the basic functions. This includes turning on / off the set-top box (or sleep), accessing the menu, accessing the main menu, moving around the menu using the round arrow keys, canceling, volume control and cursor control mode. The functions of the air mouse and built-in microphone are not here.
There are no problems with the power supply, it works without overheating, It is also lower budget in power consumption, the output voltage is 5V current up to 2A. it allows you to connect additional equipment to the console; for example, external HDD drives.
Appearance
The Device is ​​made in a flat round case with a beautiful sticker on top. The case is plastic glossy, the color sticker is covered with a protective transport film.
The brightness of the display is average, it does not blind in the dark. The following ports are evenly located on the back side of the case:
MicroSD card slot Supported memory cards up to 64 GB.
DC power port for connecting the power supply.
Optical audio output SPDIF – for connecting a high-quality audio system (receivers or amplifiers).
Analog AV port for outputting analog sound to an amplifier or connecting a set-top box to old TVs without HDMI through an adapter like "Tulips".
HDMI 2.1 port – for connecting the set-top box to new TVs. This version supports 4k at 60 FPS with dynamic HDR
Lan port – for connecting the console to the Internet, with a bandwidth of up to 1 gigabit
USB 2.0 port – for connecting peripherals
The USB 3.0 port is a higher-speed port that is more efficient to use for connecting external drives.
The following main elements are applied on the board:
RAM – 8 chips from Micron type D9PQL are used located on both sides of the board.
ROM – 32 GB SK hynix chip is used as storage .
LAN – Network Controller Realtek RTL8211F 1Gb
WIFI – uses an unknown chip HK523F
In general, the board is beautifully assembled, the soldering is clean, without any signs of flux, the connectors hold well.
Startup Menu
The H96 MAX X3 set-top box, like most TV boxes, does not have a power button on the case, so it turns on immediately when the power cable is connected.
The first start-up takes a little longer, and the initial setup wizard starts. Here it is proposed to choose the system language, configure the screen settings and network connection via WiFi.
Next, we get to the main menu, made in a minimalist style with shortcuts in the form of large colored tiles. There is no top notification bar and lower navigation bar. In the upper left corner there are small icons – indicators of the status of network and local connections as well as the icon of the memory cleaner.
Large shortcuts for access to YouTube, Google Play, browser, media center, application menu, settings menu and file manager. In the bottom row are small icons to add your favorite applications. It is impossible to change or add anything to the desktop, except for selected applications. In general, the desktop of the main menu looks nice and quite convenient to use.
Settings menu
The main screen consists of several submenus: General settings, Device settings and Droid Settings.
In the main settings menu, you can configure the basic system parameters – network, add accounts, manage applications and connect wireless devices via Bluetooth.
From General settings, you can go to Device settings, which offer to configure the settings for sound, language, Bluetooth, Screensavers, Location, Security or reset the settings.
However, you can configure many image parameters, such as resolution and image size, sound output options. The device supports a resolution of 480p-60Hz to 4K2K-60Hz , as well as 4K2K-smpte , that is, a full 4K, of course, when you connect the corresponding TV. In the sound settings, you can select the type of audio output: PCM, SPDIF or automatic selection.
You can control the set-top box using the TV remote control and vice versa via HDMI. In the Powerkey definition section You can configure the action by pressing the power button on the remote: activate sleep mode, turn off or reboot.
From the Droid Settings menu, you can also go to the classic (mobile) settings menu, which basically duplicates the previously given settings.
Embedded applications
On the initial display a fairly large number of necessary applications are installed, such as, Gallery, Play Store, Chrome and Firefox, YouTube client, File manager, AirScreen, Netflix and Prime video, VLC player and KDMC media center.
However, you can install other necessary applications from the Google Play app store. A full version is installed, all programs are available without exception.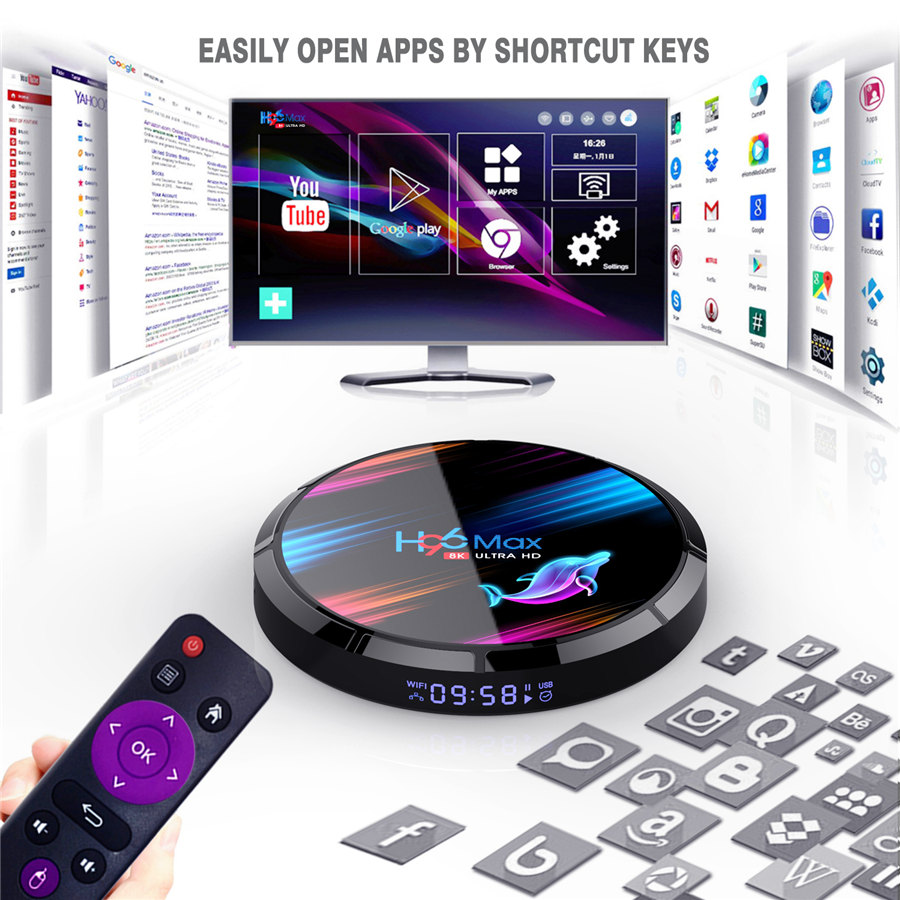 Google Chrome and Firefox are installed and both work without comment, but for their full use it is necessary to connect a regular or air mouse to the TV box.
There is a convenient file manager and you can use the remote control to manage files located in internal or external memory.
An additional application to watch videos from Youtube is also installed that is optimized for viewing on a large screen TV and controlling from a remote control.
This box comes with a unofficial KODI media center clone, KDMC, and it works perfectly. In addition to the pre-installed plugins you can also install more from the repository. However, the original KODI application of the current version is available to install from Google Play Store.
Network interface speed
Regarding wireless connections, the H96 MAX X3 has a 2.4 / 5 GHz dual-band Wi-Fi adapter with an internal antenna and Bluetooth 4.0 . When connecting to the Internet via cable, Speedtest shows the maximum speed that the provider gives – about 94.7 Mbit / s for downloads and 94.2 Mbit / s for upload.
The Internet via Wi-Fi in the 2.4 GHz band , the speed is about 17.1 Mbit / s for downloads and 39.7 Mbit / s for upload.
When connected to the Internet via Wi-Fi in the 5 GHz band , the speed is about 90.6 Mbit / s for downloads and 93.7 Mbit / s for upload.
Bluetooth, all compatible devices, such as a gamepad, connect and work without problems.
Play video
According to the Amlogic S905X3 specification with the Mali-G31 MP2 GPU, "Dvalin" supports decoding of the following video formats:
VP9 Profile-2 up to 4Kx2K @ 60 fps
H.265 HEVC MP-10 @ L5.1 up to 4Kx2K up to 60 fps
AVS2-P2 profile up to 4Kx2K up to 60 fps
H.264 AVC HP @ L5.1 up to 4Kx2K up to 30 fps
MPEG-4 ASP @ L5, WMV / VC-1, JiZhun AVS-R16 / AVS-R2 profile, MPEG-2, MPEG-1 and RealVideo 8/9/10 – 1080 to 60 fps
Antutu Video test show that the console can play almost all formats and only two are not supported. Regarding the declared support for 8K – the file "Timelapse Fulldome 8K Master.mov" (8256 x 6192 @ 24 fps) – the TV box could not reproduce.
The set top box plays video with a resolution of 480p, 720p and 1080p (24fps, 30fps, 60fps), as well as 4K video with 60fps with various video codecs, such as H.264, H.265, MPEG2, MPEG4.
As already mentioned, the regular Youtube application plays 4K video without any problems.
Additional software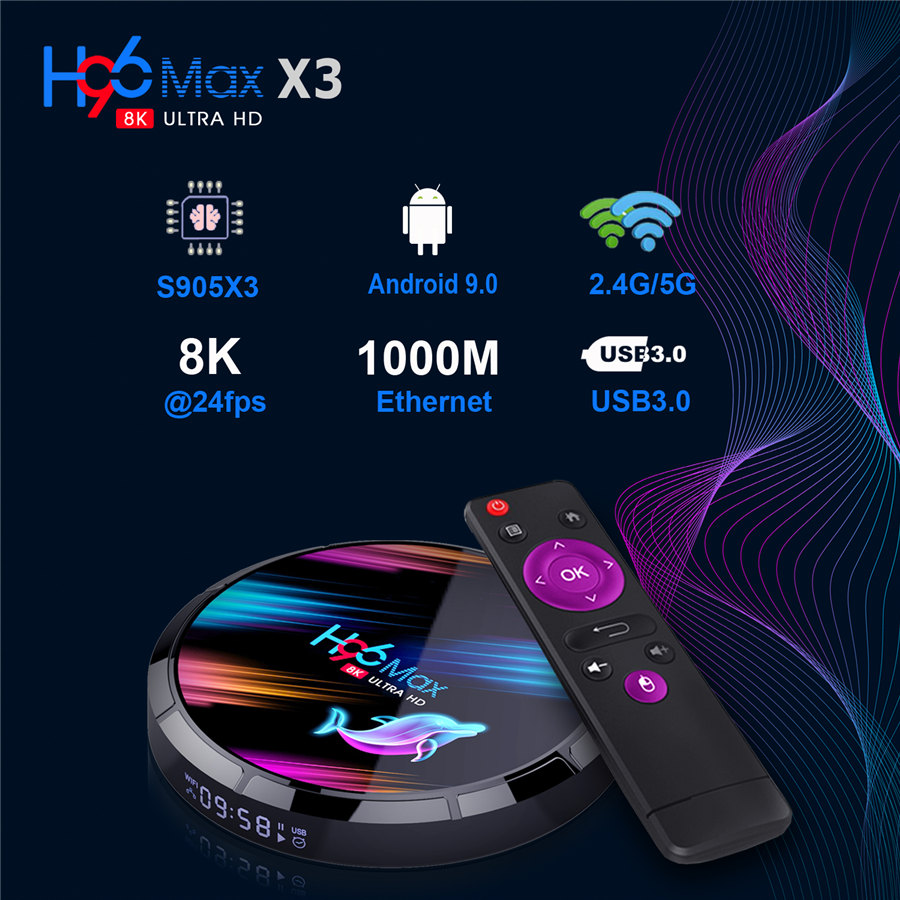 For a full functional check, applications popular among users were additionally installed.
The popular On-line cinema HD Videobox works perfectly on the H96 MAX X3, no problems.
Watching movies from torrents directly without first downloading using HD VideoBox + with TorrServe is not a problem with this device. With sufficient Internet speed, any selected video, including 4K, plays perfectly. Image quality and sound works perfectly as well.
A popular VOD streaming service is Megogo, with a large collection of movies and channels.
Playback of TV channels using IPTV technology has been verified using the IPTV application and playlist. Everything works perfectly.
Games
In the gaming aspect, the H96 MAX X3 allows you to run most Android games without performance problems and good compatibility. For example, games such as Subdivision Infinity, Real Racing 3, Beach Buggy Racing, and many more. Modern 3D games similar to World of Tanks Blitz or PUBG also come with average performance settings. Playing games does not heat up the device and keeps it to 70% warm.
Summary
The new model certainly deserves attention if you focus on the average budget price range up to $ 50. For this money, you will get a powerful and stable TV set-top box with rich multimedia capabilities.
It plays almost any available content, "pulls" popular games and at the same time does not overheat and works without failures.
It has high-speed network modules. The disadvantages includes, the lack of a navigation bar, as well as a simple remote without an aero and a microphone. Although a convenient remote control is usually bought separately, for example, the G20S. Therefore, we recommend purchasing the H96 MAX X3 set-top box model.