Razer has been a loyal supporter of Intel when it comes to the hardware platform for its laptops. But, apparently, now it is ready to offer notebooks based on AMD processors. Data from 3DMark evidence this, and if they are correct, then soon Razer will unveil its first gaming laptop with an AMD chip.
The mysterious laptop has the designation Razer PI411, a codename that may correspond to the Razer Blade 14. The company last updated this laptop back in 2016.
The new Razer PI411 laptop is powered by an AMD Ryzen 9 5900HX (Cezanne) processor based on Zen 3 architecture. This chip is clocked at 3.3 GHz and is overclocked to 4.6 GHz. The cTDP configurable setting ranges from 35W to 54W. Recall that the Razer Blade 14 (2016) contains a Core i7-6700HQ (Skylake) processor with a TDP of 45 W.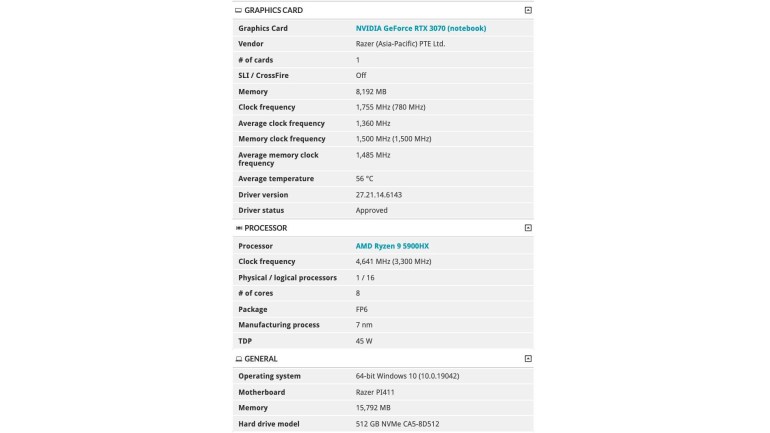 The Razer PI411 version also contains 16GB of DDR4-3200 RAM and a 512GB NVMe SSD. That is most likely just an engineering sample, and the final version will offer the final version with a wider choice of RAM and storage configurations. At the same time, two versions of the discrete NVIDIA video card are mentioned: GeForce RTX 3060 with a frequency of 900 MHz, a memory bandwidth of 14 Gbps and a TDP of 80 W; GeForce RTX 3070 Max-Q with a frequency of 780 MHz, a memory bandwidth of 12 Gbps and the same TDP of 80 W.