ASUS today announced the Mini PC PN51, an ultra-compact computer that delivers high performance for a wide range of home and business applications – the successor to the popular Mini PC PN50. That was powered by the latest AMD Ryzen ™ 5000 mobile processors with Radeon ™ Vega 7 graphics and support for high-speed 3200 MHz DDR4 memory.
The Mini PC PN51 is ready to handle demanding workloads. Yet, its small footprint takes up minimal desktop space and makes it suitable for applications such as which traditional PCs do not fit.
The PN51 Mini PC supports up to 8K @ 60Hz or up to four displays simultaneously up to 4K @ 60Hz for ultra-realistic viewing. It is suitable for flexible business scenarios with custom port settings. Wi-Fi 6 (802.11ax) provides stable high-speed data transfer even in crowded network environments, and two USB-C® ports support data transfer.
The DisplayPort functionality over a single cable. The PN51 mini PC is also Microsoft Cortana ready, with built-in dual front microphones for effortless voice control and an infrared (IR) sensor that allows users to control apps with remote control. It enabled the HDMI to wake up the display from standby or turn on the Mini PC PN51.
Ready to go: powerful processor and memory for smooth computing and multitasking
ASUS Mini PC PN51 is equipped with the latest AMD Ryzen 5000 mobile processors. Compared to traditional mini PC processors of the same level, this delivers up to 20.2% improvement in overall performance for a smoother day-to-day computing experience.
When it comes to multitasking, the PN51 proves itself to be an absolute powerhouse, delivering up to 58.2% performance gains. The latest addition to the popular ASUS mini PC lineup also boasts high-speed 3200MHz DDR4 memory, which is 1.3 times faster than 2400MHz DDR4 memory, providing excellent performance for everyday computing tasks.
Superior visuals: beauty 8K UHD or support for four 4K displays, all up to 60Hz
ASUS Mini PC PN51 is equipped with integrated AMD Radeon Vega 7 graphics, delivering more than 150% performance improvement over traditional mini PC graphics. Hence, it is ready to delight in ultra-realistic high-resolution visual content. The PN51 supports one 8K display up to 60Hz, plus up to four 4K @ 60Hz displays via HDMI, DisplayPort over two USB-C ports, and two user-configurable ports with no limitation1 per combination.
The PN51 Mini PC also supports stunning 8K resolution via DisplayPort 1.4 or Type-C DisplayPort, which delivers 4x the detail of 4K or 16x the standard FHD output. Specifically, the PN51 will pump 8K images up to 30Hz over a single DisplayPort and up to 60Hz over a dual-mode DisplayPort (DP ++), bringing every idea life in breathtaking style.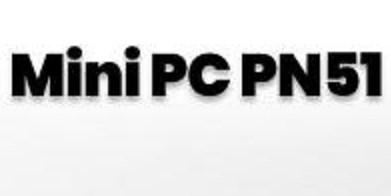 Fast and flexible connectivity: Two USB 3.2 Gen 2 Type-C ports with DisplayPort 1.4 and Wi-Fi 6
ASUS Mini PC PN51 provides versatile multi-port connectivity, including front USB 3.2 Gen 2 Type-C with Battery Charging 1.2 and DisplayPort 1.4 support, rear USB 3.2 Gen 2 Type-C port with DisplayPort 1.4 support, and custom two-port to support legacy devices, additional displays, or multiple network connections (offered in the UK as standard with DisplayPort 1.4, other options available upon request). The new machine also boasts Wi-Fi 6 (802.11ax) for high-speed wireless connectivity.

Configurable port options for PN51 include COM, VGA, LAN, and DisplayPort 1.4. That gives users the freedom to choose their combination of ports, making the Mini PC PN51 suitable for signage, point of sale (POS), and intelligent vending machines.
A compact body that is easy to upgrade: modern compact design that is easy to upgrade
With a modern design, sleek lines, and a stylish matte finish. ASUS Mini PC PN51 will easily blend into your home, office, and retail environments. Lightweight and compact, with dimensions of 115mm x 115mm x 49mm and a volume of 0.62 litres, can be placed almost anywhere and even attached to the back of the display using a VESA mount to save space and save space.
Decision. The convenient slide-out design allows you to easily add or upgrade an M.2 SSD, 2.5 " HDD, SSD, or memory in two easy steps with a screwdriver. The SSD has an efficient heat sink to keep the drive temperature below 70 ° C. idling for increased durability and reliability – potential savings in maintenance costs.
A minimum feature option is also available. That gives consumers maximum flexibility in customizing their settings.
Eco-friendly and very quiet: lower environmental impact and lower running costs
ASUS PN51 Mini PC features an energy-efficient design that reduces environmental impact, reducing operating costs in both business and home environments. ASUS Eco-Friendly Mini PC series has earned some of the industry's highest environmental certifications, including Energy Star. In particular, the PN51 only consumes 9W in standby mode. It also operates silently, generating only 21.9 dBA in standby mode and 34.7 dBA at full load.